Posted by Dan on Aug 7th 2018
Designed for use in sewage aeration applications the range includes both the Enviro air pump for situating outside the sewage treatment for aeration of waste water in the first stage of treatment and the SW range which is submersed in the media for removing the waste water after treatment. Other applications include aeration for koi ponds and spa's/whirlpools, rainwater harvesters, cellar emptying, swimming pool emptying, flood prevention and fuel cell manufacture. • Green drive technology – energy efficient motors low power consumption • Specially formulated diaphragm material for extended life • Due to no wearing parts no reduction in performance • Robust and compact construction – weatherproof • Easy to service with competitively priced spares kit • Suited to intermittent or continuous duty applications • Whisper quiet operation as low as 35dB
Click here to shop for Blue Diamond pumps!
After 57 years of manufacturing pumps in the UK, Charles Austen Pumps announce the launch of their new site in Georgia USA named Blue Diamond Pumps Inc where they will be stocking their proven range of Envir-o linear air pumps.
Designed for waste water treatment units (ATU's) Envir-o combines a specially formulated diaphragm material for extended life whilst incorporating the most energy efficient motors for low power consumption for true low cost for life. The design also includes exceptionally simple low cost servicing which needs only a screw driver to complete. The robust design features a compact alloy casing which is weatherproof and does not degrade over time.
The simple yet efficient pumping principle uses an electro magnetically operated diaphragm, which eliminates sliding parts keeping wear and tear minimal and power consumption low. This principle combined with a unique noise adsorbing double damping system within the robust alloy casing offers whisper quiet operation of only 40dBA. A comprehensive range of models is available offering flow rates in steps from 30 l/min to 200 l/min with an exceptionally long service life and 18 months warranty. Frost and rain proof the ET proves ideal for aeration in sewage treatment plants, hotel kitchens, industrial car washers and large scale aquariums. It is equally suited to interior use in odour neutralisers, spas/whirlpools and decorative water features.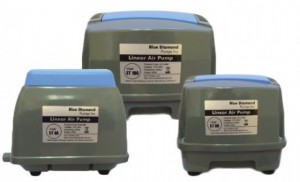 The Blue Diamond ET series is an excellent choice for an Aeration and Winter Deicer Linear Air Pump. Each model helps improve pond water during hot, warm, cool and cold weather. By adding supplemental oxygen to the pond, the pump makes the water clearer and raises its quality. In freezing weather, it helps to prevent ice on the water. This pump also can add oxygen to septic system wastewater to encourage aerobic bacteria to decompose. It has a 2 year warranty.
Koi, other fish, plants and good bacteria are among the pond inhabitants that thrive with the oxygen this pump adds to their ecosystem. The pump's action also circulates the water, which helps fish waste break down. The result is a cleaner pond, which promotes healthier pond life.
We recommend that all envir-o pumps are serviced every 12 months. Service kits for each pump can be purchased from us. Sign up to our service reminder and we'll remind you when it is due!
Features:
Operating at a sound level as low as 35 decibels, and operates at as low as 25 watts of electricity.
Easy to set up, each pump provides fittings.
Robust and compact construction - weatherproof. The pump's construction helps to give it a long life.
Green drive technology - energy efficient motors low power consumption.
Ideal for large grow systems and koi ponds.
Supplied with a brass fitting
2 Year Warranty