Matala has introduced the new, continuous Matala Power Cyclone pond vacuum for use in large ponds.
The contractor-grade Power-Cyclone vacuum has two motors: a suction motor that vacuums up to 1,500 gph, and an internal discharge motor with 0.5 horsepower. The system is robust enough to discharge your dirty water under pressure up to 18 feet in elevation. The flow rates oweb_Power-Cyclone Vacuum Hi Resf the motors are balanced, so the vacuum job is continuous without interruption. The 6-foot extension pipe combines with 26 feet of suction hose and 30 feer of exhaust hose allowing for easy handling during even your biggest pond vacuum jobs. Almost 60 feet of distance including the pipe.
The Power-Cyclone vacuums debris into its 13-gallon holding tank, where large solids are collected into a pre-filter bag. The dirty water is then pumped out by the internal 0.5-horsepower sludge pump. The system includes 32 feet of exhaust hose, which allows the wastewater to be pumped to any elevation up to 18 feet high. The total working distance is more than 60 feet. An optional, secondary exhaust hose can be added to the end of the discharge hose to gain an additional 32 feet, if needed. (Note: Do not return dirty water to the pond. Pump dirty water to your garden or proper drainage system. Heavy-duty wheels perform well over rough terrain, and the tote handle makes maneuvering easy.)
Four standard sizes of vacuum head are included for various cleaning tasks. The new optional Gravel Vacuum Head can be purchased separately. The optional Gravel Vacuum Head is ideal for cleaning gravel bottom ponds without draining the whole pond or removing any fish." It is ideal for cleaning debris from the surface of 3/8-inch to 1-inch gravel, up to 2 inches deep. The Gravel Vacuum Head is also ideal for working around large rocks and plants to remove loose debris without clogging. It includes a universal adapter that fits most other pond vacuums on the market.
This innovative power vacuum is incredibly versatile and can be used in a variety of applications, including:
Pond cleanouts
Filter tank cleanouts
Basement floods
Household carpet floods
Matala Power-Cyclone specifications:
Motor: 1/6 HP Vacumm Motor
Rated: AC 115V
Vacuum motor power consumption: 1,200 watts
Suction flow rate: up to 1,500 gph
Discharge pump power consumption: 700 watts at 115V
Discharge flow rate: up to 3,700 gph
Container capacity: 13.2 gallons
Suction hose length: 26.2 feet
Discharge hose length: 32.8 feet
Suction pipe length (4 pieces): 6 feet
Electric cable length: 32.8 feet
Weight: 70.5 pounds
Limited warranty: One year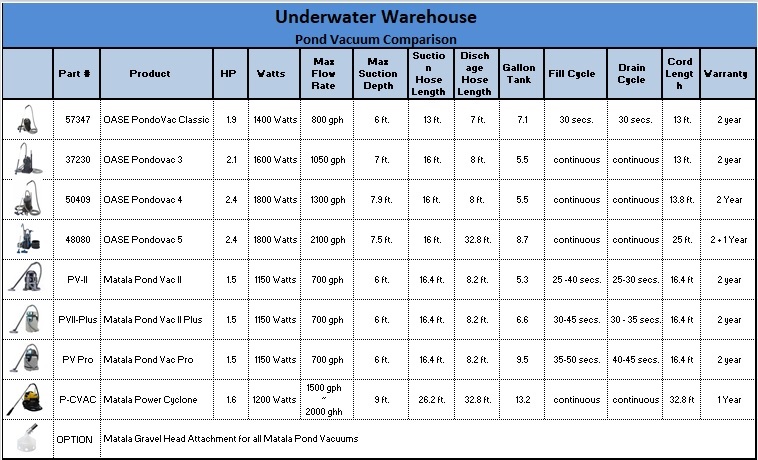 Other Details
http://www.underwaterwarehouse.com/Pond-Vacuums/Matala-Power-Cyclone-Pond-Vacuum-p-9262.html
Custom Field
Product Reviews